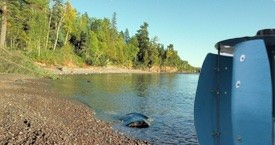 Suggested minimum donation of $700 USD
An innovative, easy to build, free energy machine for everyone. One mile-per-hour windmill.
Check the wind speed in your area. You will find that almost always you have 1 MPH or above! Almost never zero wind! This means free energy is available for everyone, almost, always!
This machine can be built for approximately $100 to $800, depending on your choice of materials, your skill level, resourcefulness at finding good deals/recycling, and your building skills.
The big failure in all windmills, until now, is that they are poorly engineered. Most do not even turn until the wind reaches 5 MPH and most DO NOT produce usable power until they reach 10 mph.
We know many claim better then this, but we have tested over 56 different models, and they ARE ALL, poorly engineered, JUNK!

1 mph —- Turns & produces approximately 1/50th HP (15 Watts!)
2 mph —– Produces approx. 1/10th HP ( 75 Watts)
4 mph —– Approx. 1/2HP (375W)
8 mph —– Approx. 2HP (1500W)
16 mph —- Approx. 8HP (6KW)
32 mph —- Approx. 32HP (24KW)
64 mph —- Approx. 130HP (100KW)
(Actual results will vary, depending on your building skills)
Even the 75 watts, (even 25 watts) is enough to light up a entire house if you use our "Whole House Lighting System"
Suggested Minimum donation for this Skype class is $700.
(You take your own notes)
This, like all classes, ARE FOR PERSONAL/FAMILY USE ONLY.
NOT FOR COMMERCIAL USE. If you want to do something commercial, you must start with a general consultation.
God bless you and yours!
From all of us at World Improvement Ministries!
World's Most Amazing Windmill — (The one MPH windmill)
Limited time gift.