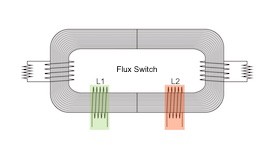 Suggested minimum donation of $300 USD
Originally given away in 1988 along with the Flux Switch Motor and the Flux Switch Generator. (WITTS has given away more technology devices than most people would believe. Many of these technologies are quickly patented by others, and you are most likely using some of those type of technologies in your home or car.)
This device is simple and not too difficult to build. The only solid state device of the 3 Flux Switch Technologies. Originally tested with overunity at 325%, it now has successful overunity replications having been reported as high as 6000%. Includes a free license to build up to 3 units for home use. Also complete detailed schematics given.
DISCLAIMER — IF YOU BUILD THIS DEVICE, DO IT AS A LEARNING EXPERIENCE ONLY. YOU SHOULD NOT ATTEMPT TO BUILD ANY ELECTRICAL DEVICE UNLESS YOU ARE AN ELECTRICAL ENGINEER AND/OR COMPETENT WITH HIGH VOLTAGE CIRCUITS! IN OTHER WORDS, DON'T TRY THIS AT HOME! ALL THE PLANS ON THIS WEBSITE ARE OFFERED FOR EDUCATIONAL PURPOSES ONLY! AND ARE NOT INTENDED TO BE BUILT BY ANYONE.
Can be scaled to any size capable of 100kw or more. Further information from one of the replications can be found from Brother Kim who joined us to share his story. Below is a short video he created to demonstrate his device in action.