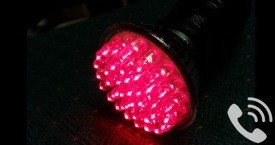 Suggested minimum donation of $200 USD
Reported to be a powerful tool in the fight against cancer.
This amazing light has been testified about, time and again, to dramatically reduce swellings of all kinds. Reported to help "get rid of lumps and tumors of all kinds as long as they are not deeper then 3 inches below the skin. Regardless of if they are benign or malignant!"
By the 4th or 5th treatment many people report they "see it shrinking right before their very eyes!" And "You can measure the tumor shrinking, in 30 min time!"
(Self diagnosis is not recommended. If you think you may have any disease, consult your licensed physician without delay.)
Reported to help get rid of wrinkles and age spots! Reported to help get rid of Shingles and Herpes. Reported to help heal canker sores and acne. Reported to help heal and rejuvenate the skin!
See this testimony from a contributor who was amazed at the effectiveness of this remarkable device!
Also, the Quantum healing light was highlighted in the WITTS teaching archives. You can watch the broadcast here: #065 The Power of Your Words!; Guest Timothy Martin – The Amazing Quantum Healing Light!
This gift includes one Quantum healing light AND a 30 minute health and healing consultation with one of the leading scientists and alternative healers in the world!
Our gift to you, with any donation to this cause of $200 or more ($300 if overseas outside US).

Also available is a more portable 9V Battery Powered Quantum Healing Light. Amazingly bright!
It runs about an hour on one 9V battery. (Also runs on widely available same size rechargeable 9V batteries.)